No one wants to spend the entire day prepping sides so these make ahead side dishes for BBQ are the key to a more relaxed gathering around the grill or smoker. Whether you're dining as a family or you're entertaining friends, you want to be able to sit back and relax on the day too.
While the side dishes may not be the hero of your backyard BBQ, they sure do complete the meal.
So we've put together a collection of delicious and easy make-ahead sides for BBQ and smoked meats to save you time in the kitchen.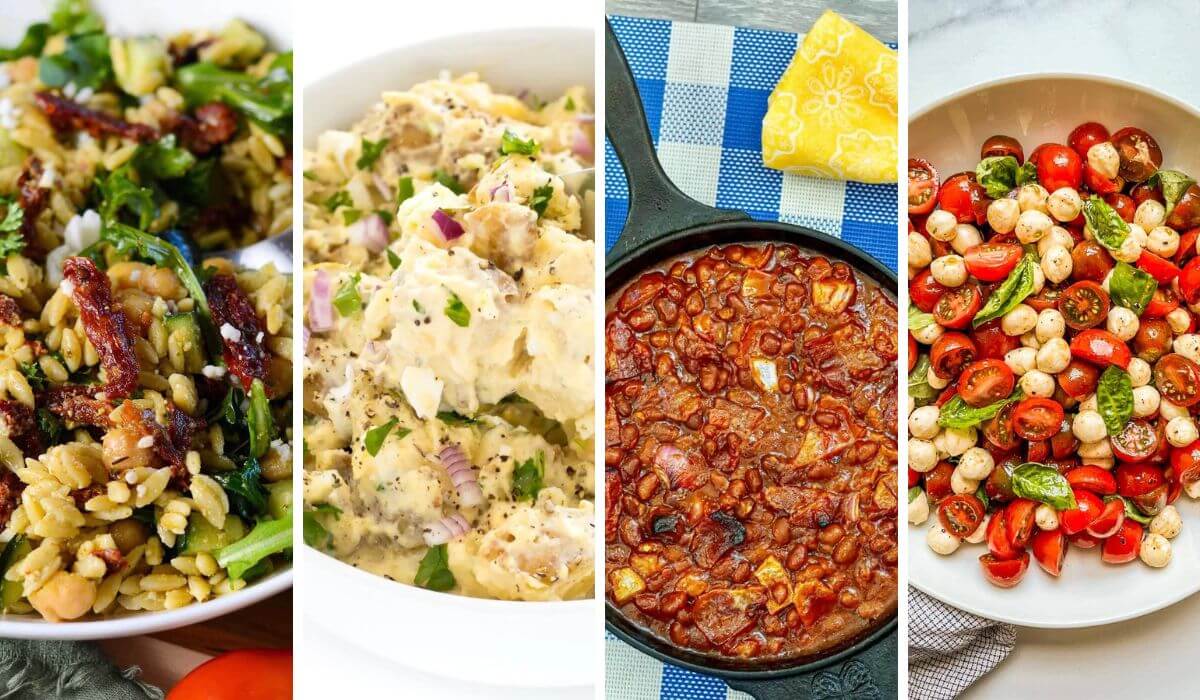 The Best Make Ahead Side Dishes For BBQ
When it comes to planning the best BBQ side dishes to make ahead, you need options that won't get soggy or wilted if they are made earlier in the day.
In fact, side dishes you can make the day before that will still taste great are even better! These delicious BBQ side dishes are a great choice for a summer potluck to take to a friend's place too.
Make ahead sides are great choices for saving you time on the day, especially if you are entertaining and want to spend time with your guests… not in the kitchen!
We have a bit of a joke in our household where if Simon's got the grill or the smoker going, I'm responsible for sides. And I am the queen of last-minute side dish prep.
When it comes to summer salads and healthy side dishes, those are definitely not his areas of mastery.
But hot side dish recipes and comfort foods are something he does great!
Alright, let's get to the good stuff – side dishes you can make ahead. I've sorted these into categories to make it easier.
Make Ahead Salad Side Dishes For A Cookout
While you can certainly make a light salad ahead of time in part, anything that has freshly cut ingredients or dressing is going to end up soggy and wilted by the time you are ready to eat.
Jucy tomatoes leave your lettuce droopy or salad dressing leaving the entire thing a big sloppy mess. No thanks!
If you want a garden salad, you can make this a little earlier in the day and then wait to add the dressing until just before you serve. These great side dishes are a better option:
1. Red Potato Salad With Dill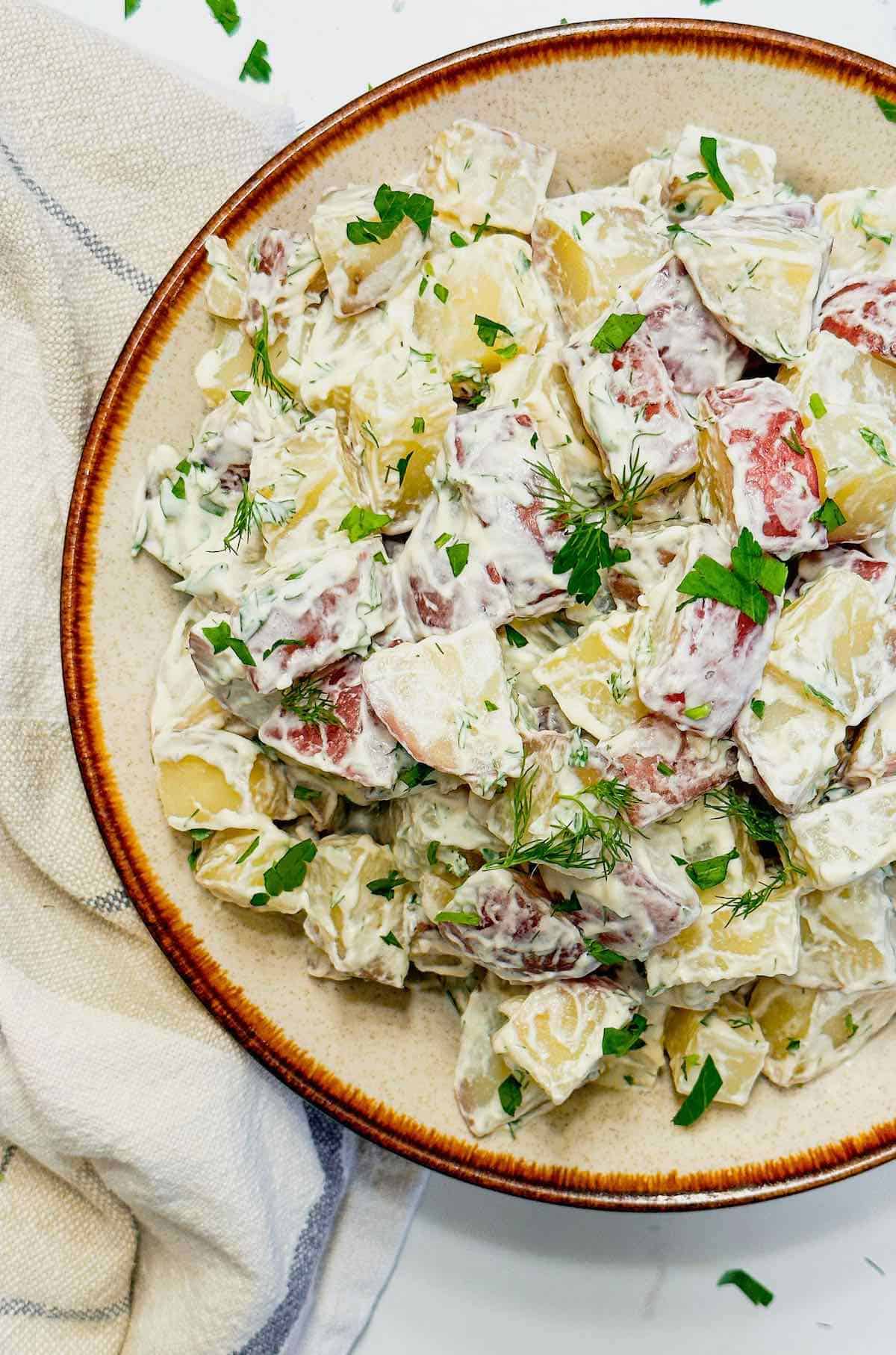 This red potato salad with dill can be made up to a day ahead so you can enjoy the creamy flavours and zesty dill with your meal, without having to prep it on the day.
2. Macaroni Salad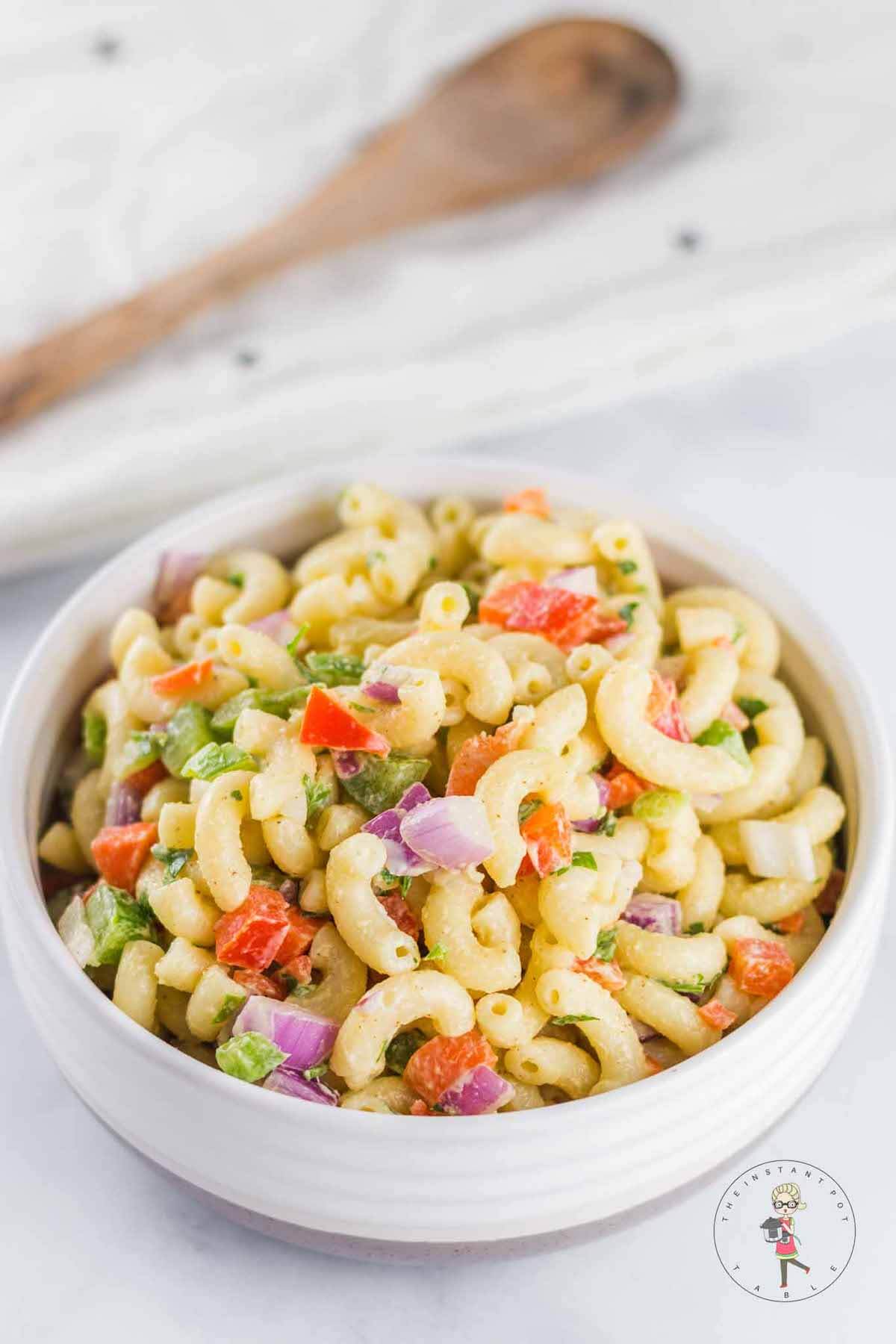 This easy macaroni salad is a good one for using up pantry essentials when you've forgotten to plan your sides! There's a good chance you might have most or all of the ingredients already in your house. And it can be refrigerated until you're ready to eat.
3. Classic Caprese Salad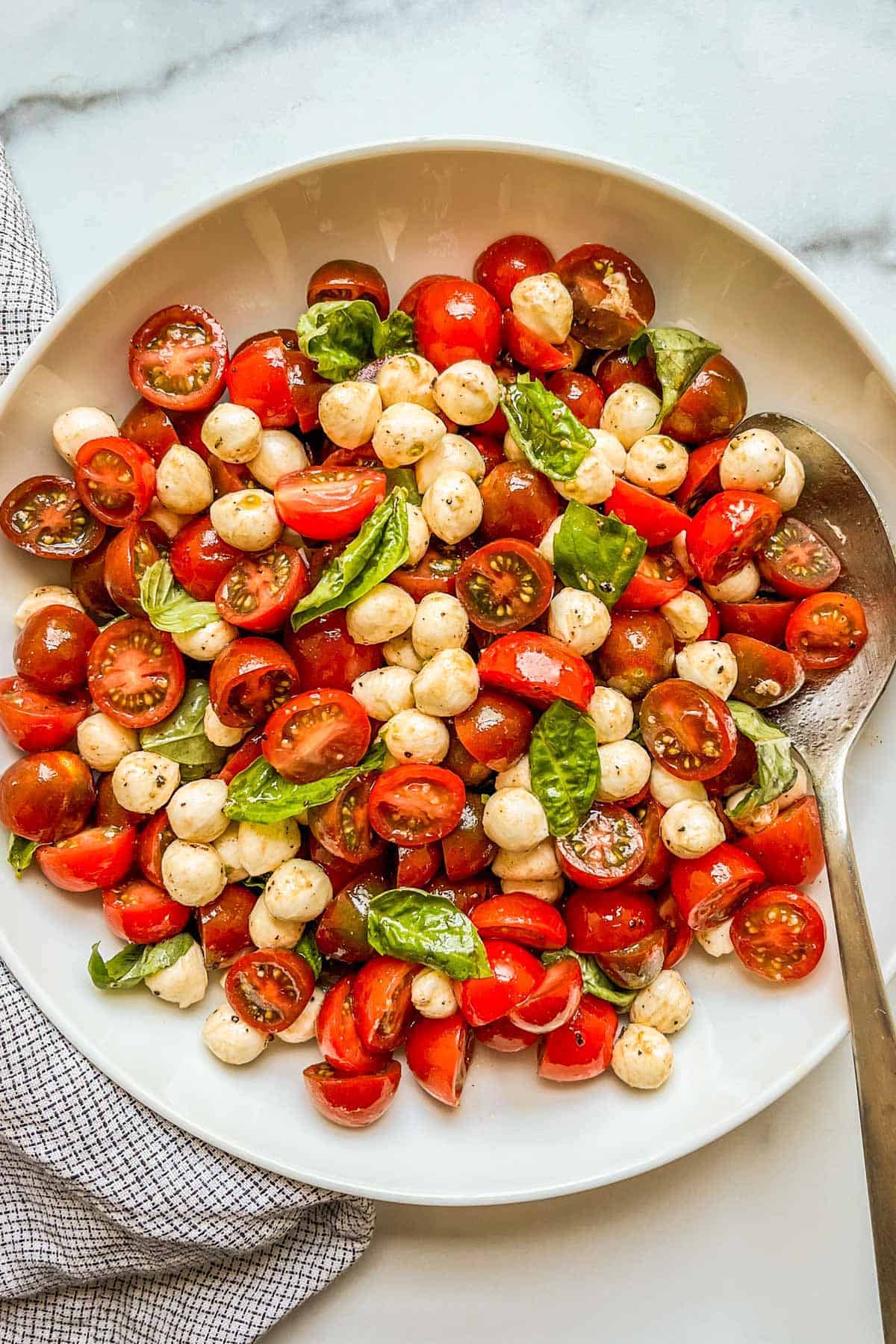 This cherry tomato caprese salad stores well in the refrigerator as a make-ahead side dish, with juicy tomatoes, mozzarella cheese balls, basil and balsamic vinegar.
4. Creamy Apple Jicama Slaw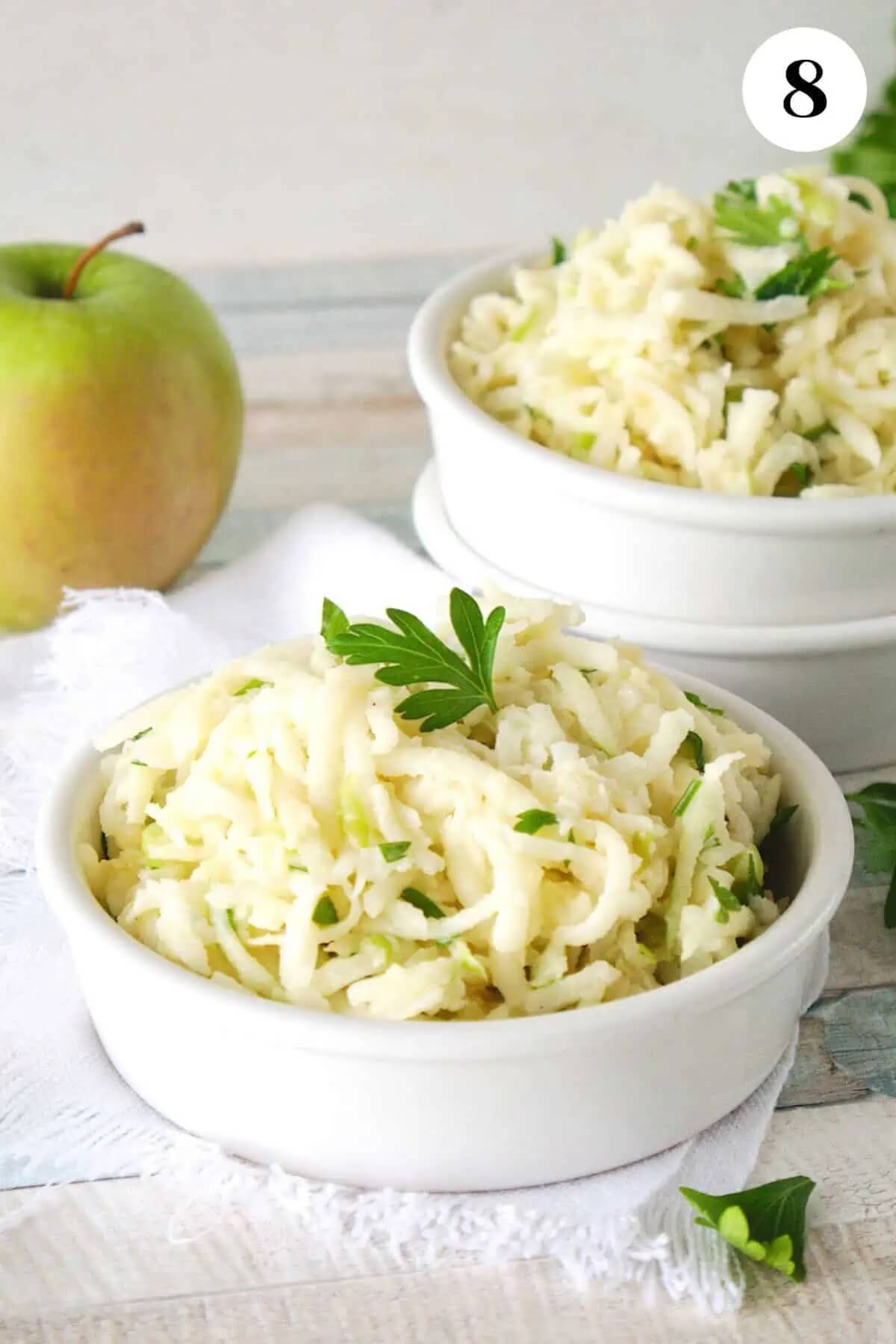 This creamy apple jicama slaw is a great option if you're looking to use some unique flavours for entertaining friends and family and it is a great one to make ahead the day before.
5. Cilantro Lime Pasta Salad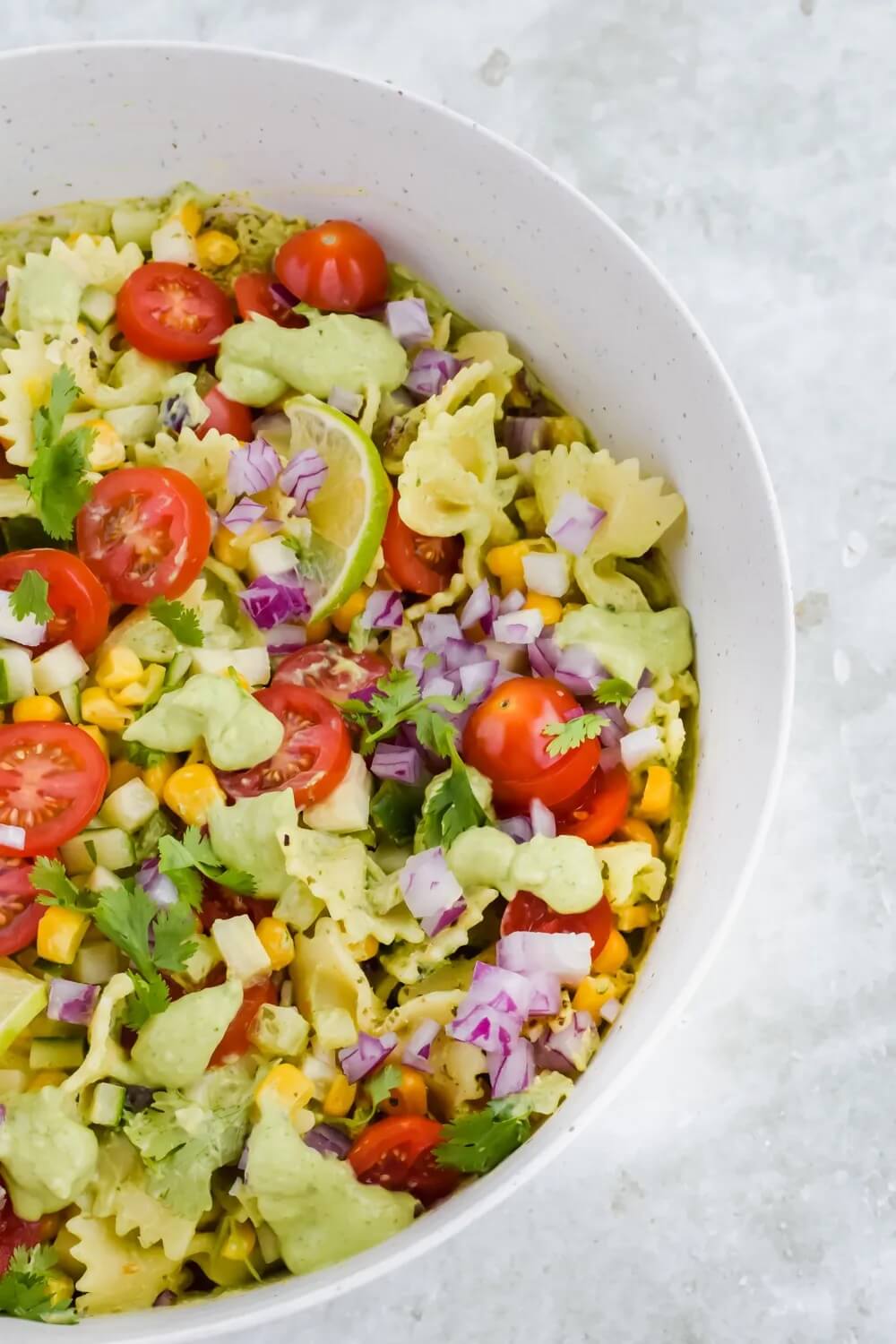 This cilantro lime pasta salad is a bright-coloured dish with bow-tie pasta that is served cold so easy to prep ahead that morning.
6. Linguine Pasta Salad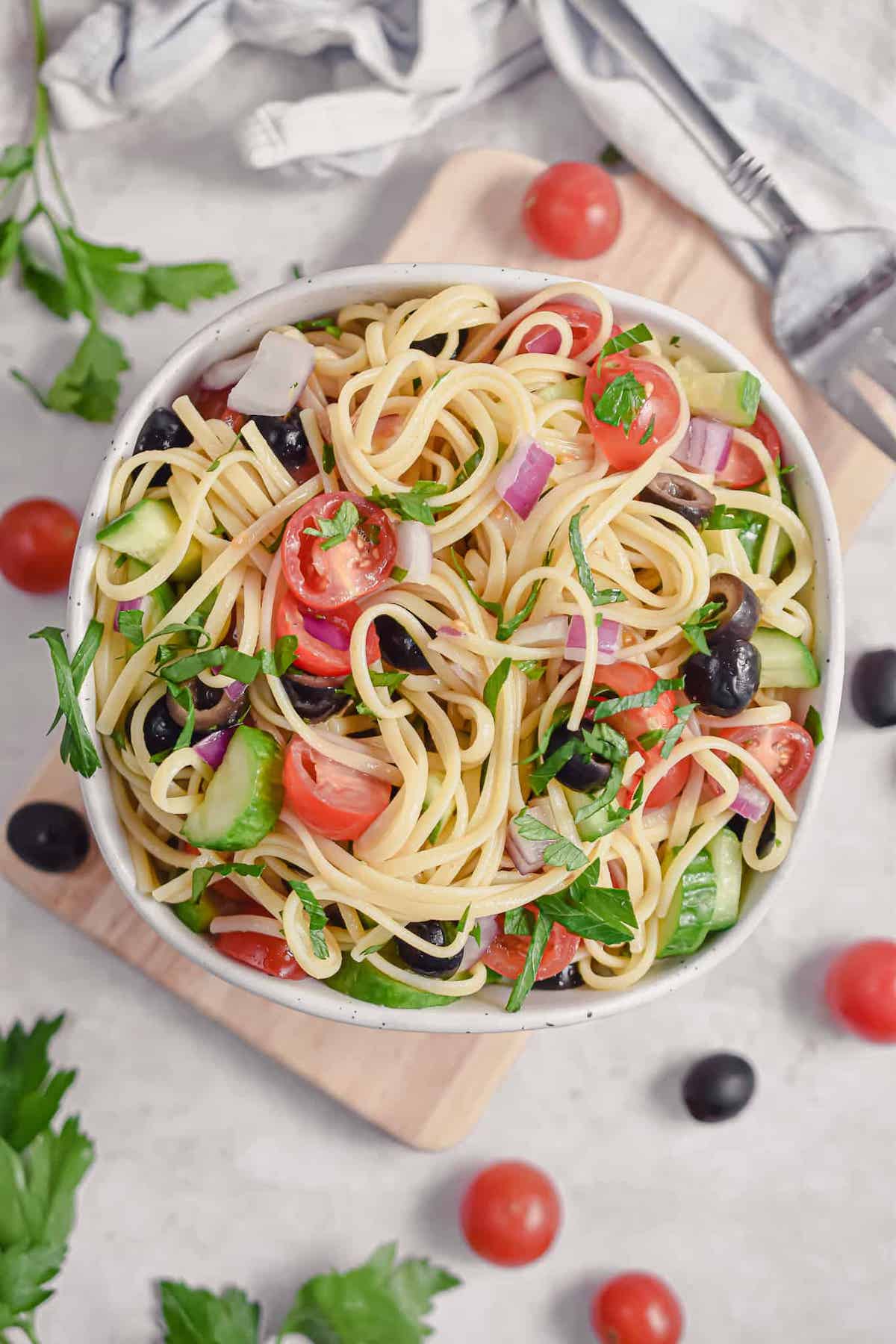 This linguine pasta salad is served cold and is a crowd-pleaser with cherry tomatoes, cucumber, olives and fresh herbs for big flavours.
7. Italian Bow Tie Pasta Salad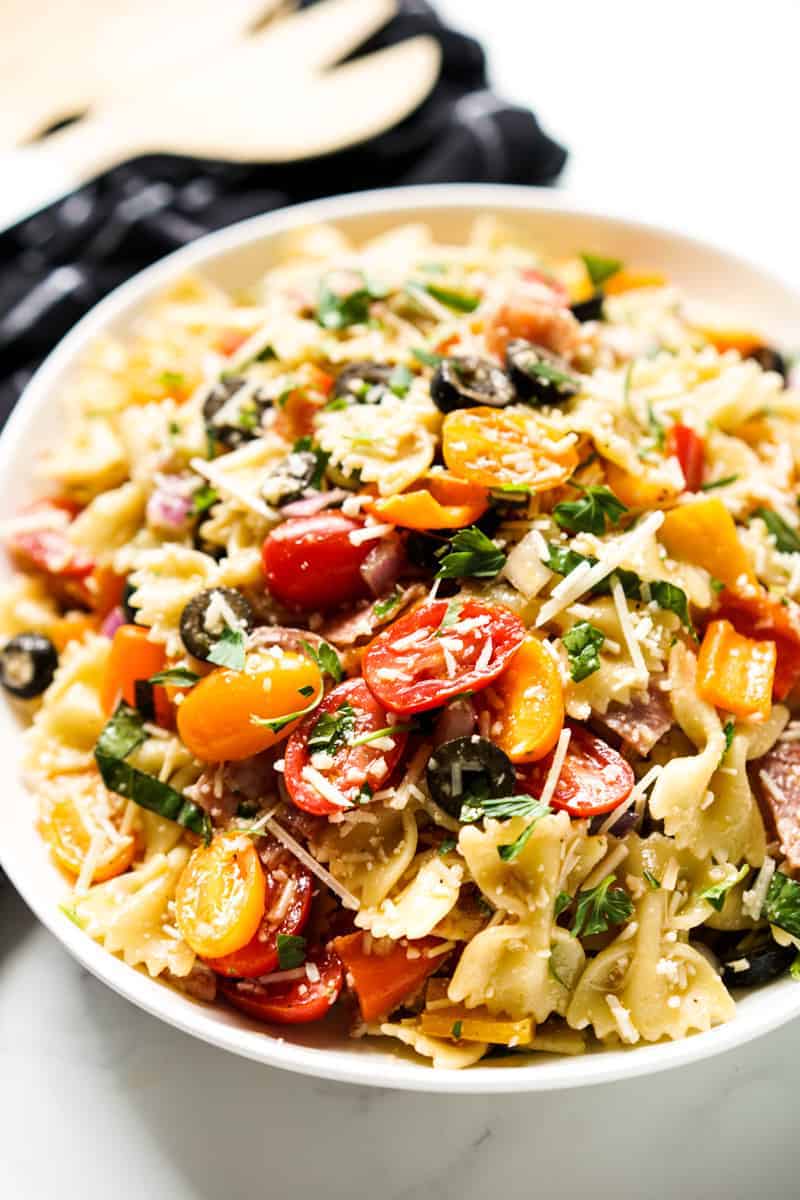 This is another simple bow-tie pasta salad recipe, loaded with cherry tomatoes, olives, salami, bell peppers, red onions, fresh basil and parmesan cheese. This is a quick and easy side salad that you can easily take with you to summer cookouts and potluck days.
8. Roasted Baby Beets With Hummus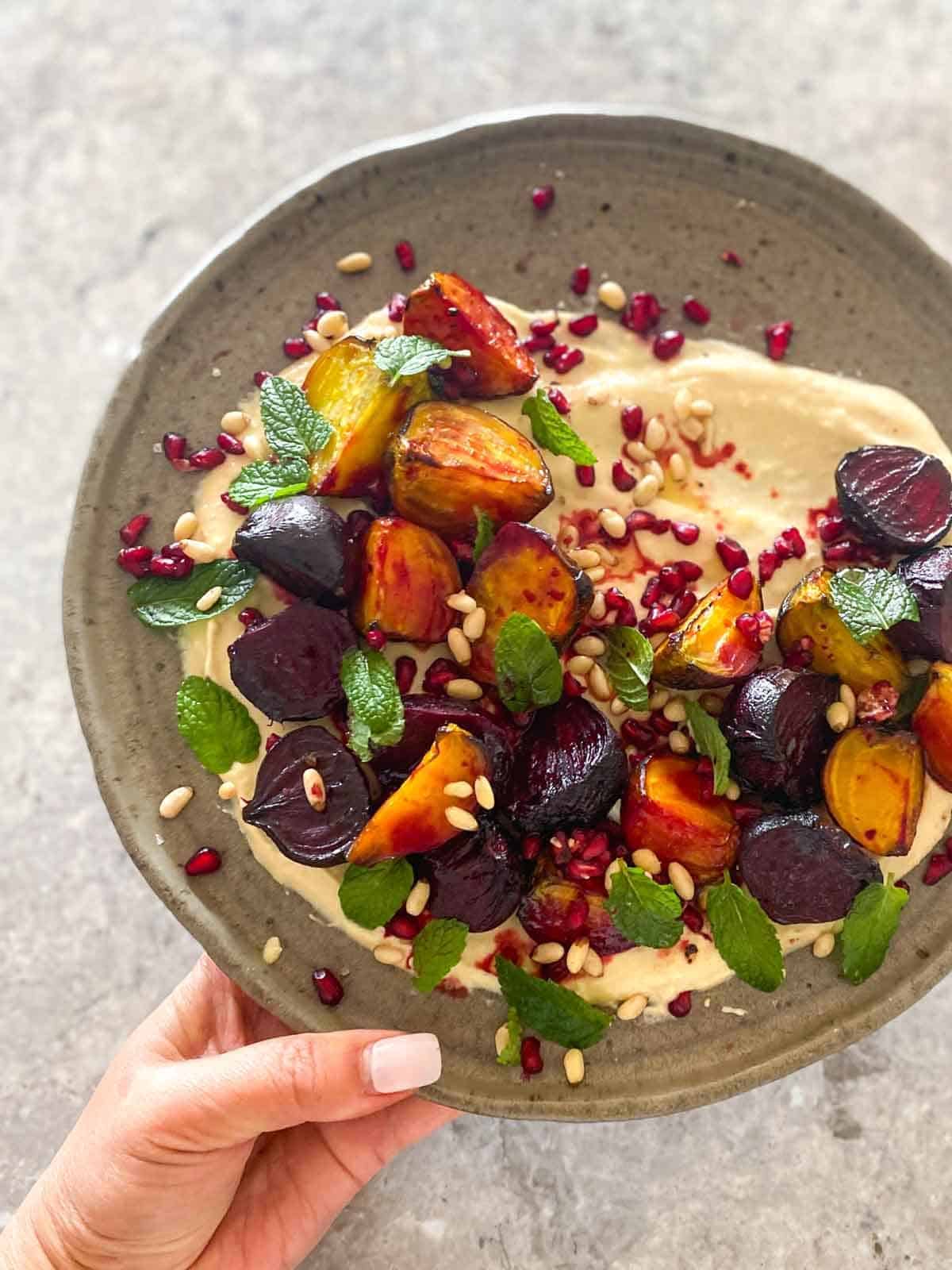 These roasted beets and hummus can be made ahead of time and served up just as you're ready to eat. The sweet beet flavours teamed with the pomegranate and pine nuts make this a dish that will feel a little bit fancy, perfect for entertaining. This is perfect for summer barbeques.
9. Quinoa Salad with Greens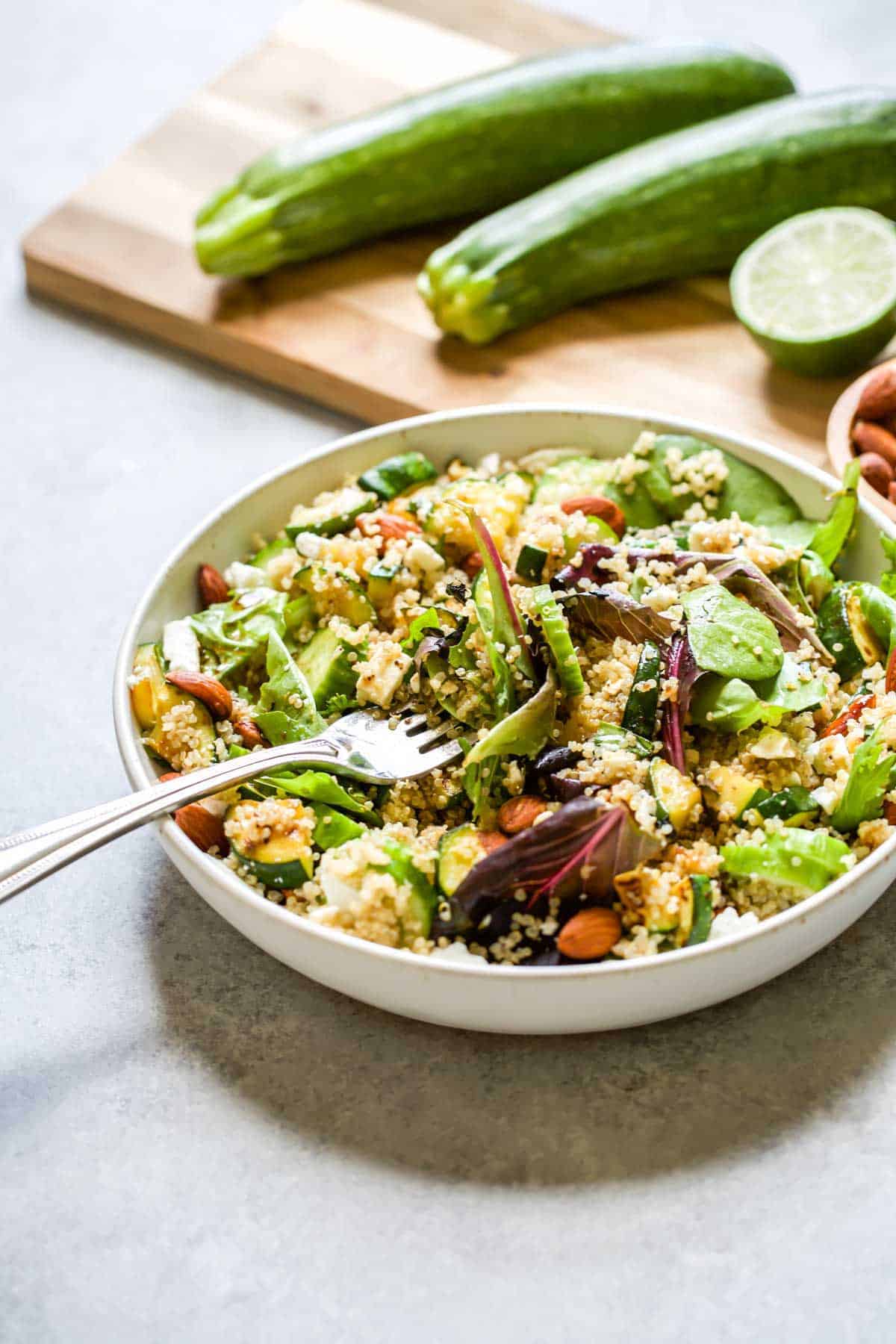 This quinoa salad with greens is a healthy make-ahead side for cookouts that can easily be made earlier in the day, and ready to serve.
10. Three Bean Salad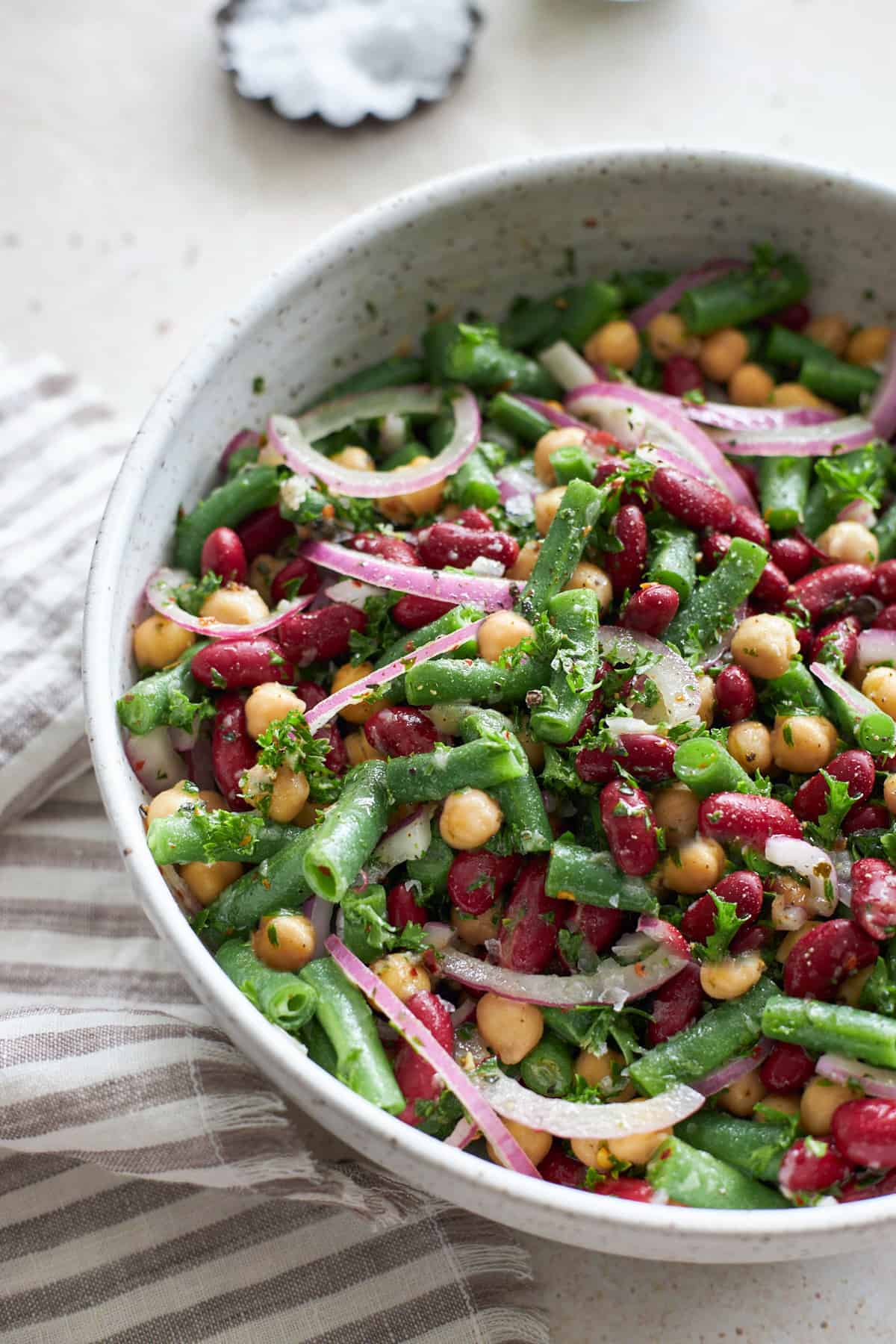 This three-bean salad has red onion and herbs for plenty of flavour and a little extra crunchiness with the green beans.
11. Curried Potato Salad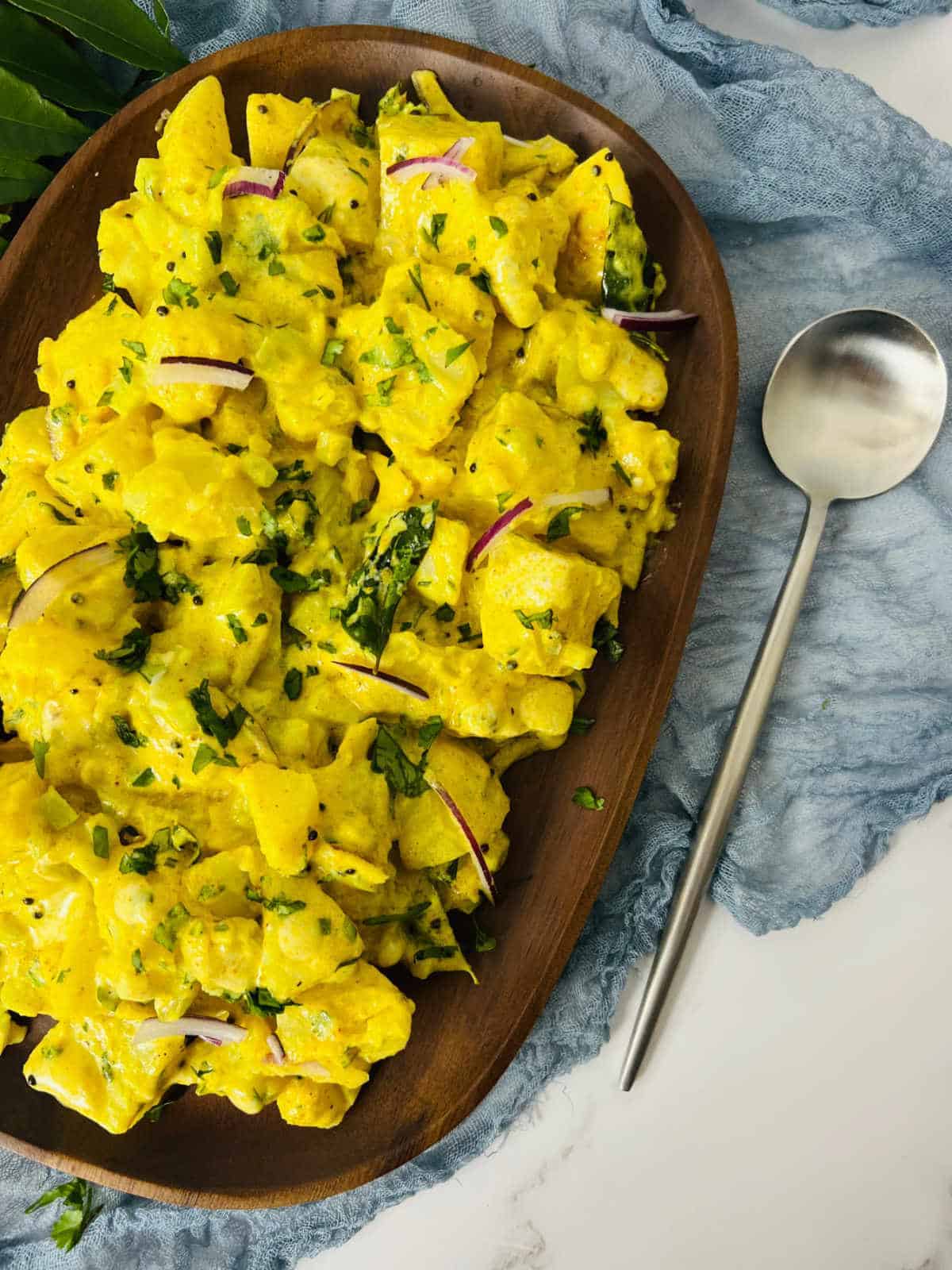 Mix it up with your favourite classic potato salad recipe by switching it for this curried potato salad. A flavour punch that you could make the day before and have ready to eat.
12. Cold Sesame Noodles with Tahini Sauce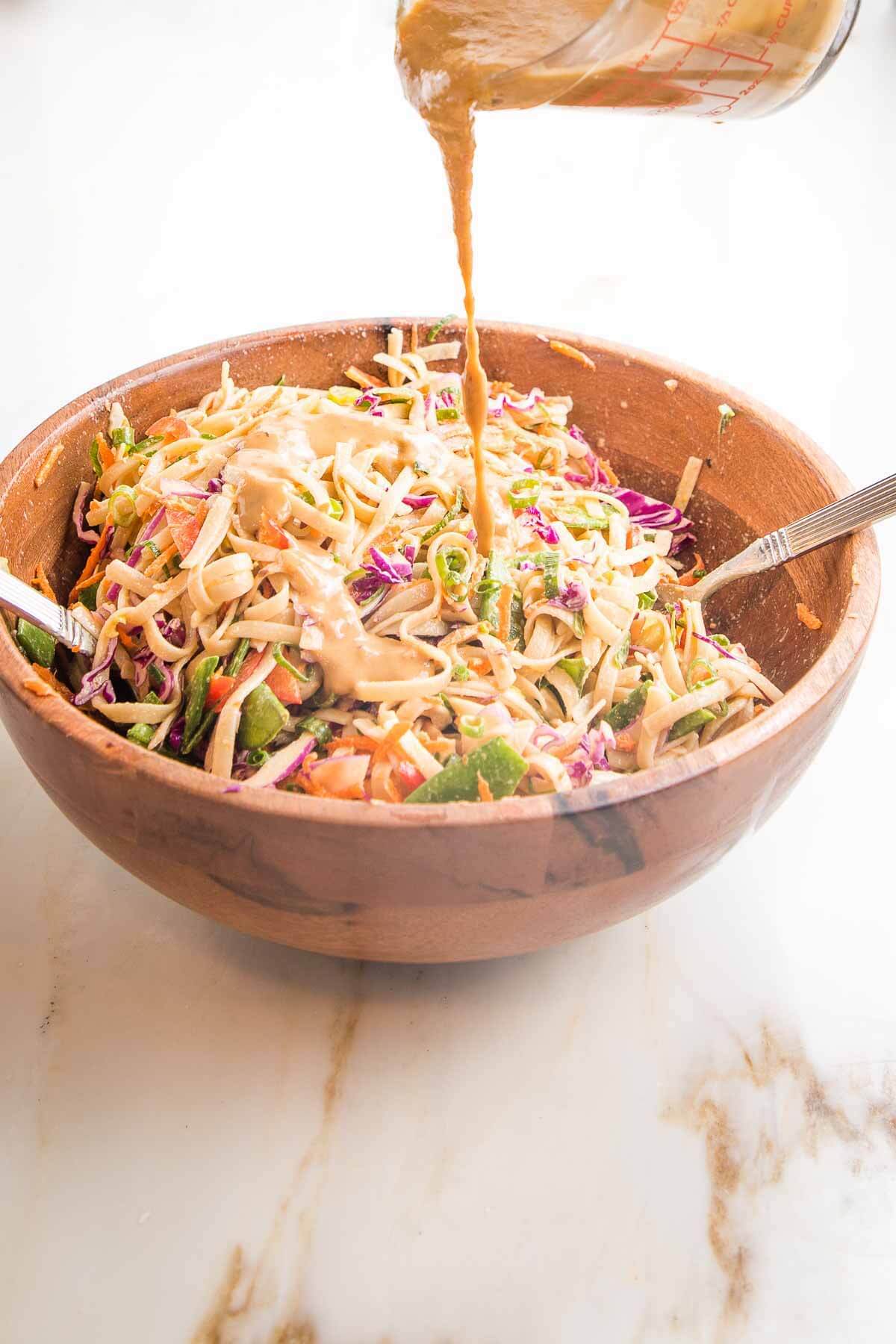 This cold sesame noodles with tahini sauce is one you can make earlier in the day and then add your tahini sauce just as you are ready to serve. A great option for summer sides or serving with grilled chicken dishes, such as this grilled orange chicken.
13. Sweet Potato Rice Salad
This roasted sweet potato and rice salad is an easy recipe you can serve cold, making ahead of time, if you don't want to spend all your time making and prepping sides along with your main course.
14. Fiesta Rice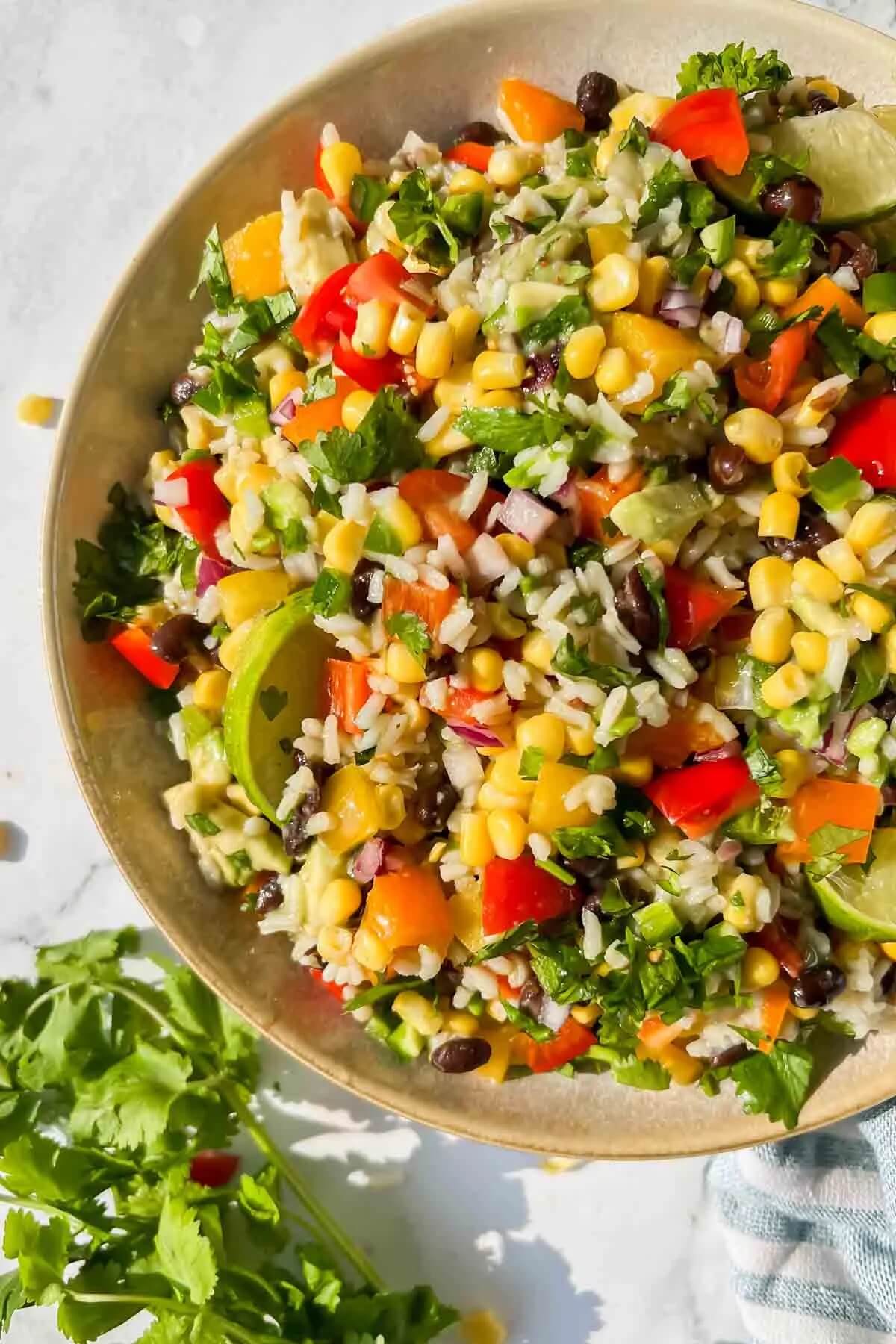 This fiesta rice is perfect for barbeque season as a refreshing side dish with juicy cherry tomatoes, corn, rice, and more.
Hot BBQ Side Dishes
These hot side dishes for BBQs can be made ahead of time and then either put in the oven just before they are needed or reheated before you are ready to eat.
These are the best backyard cookout sides for cold weather or when you're feeding a crowd and need some hearty side dishes.
Us Aussies BBQ all year round and these are some of the best side dishes for those cold days.
15. Baked Beans With Bacon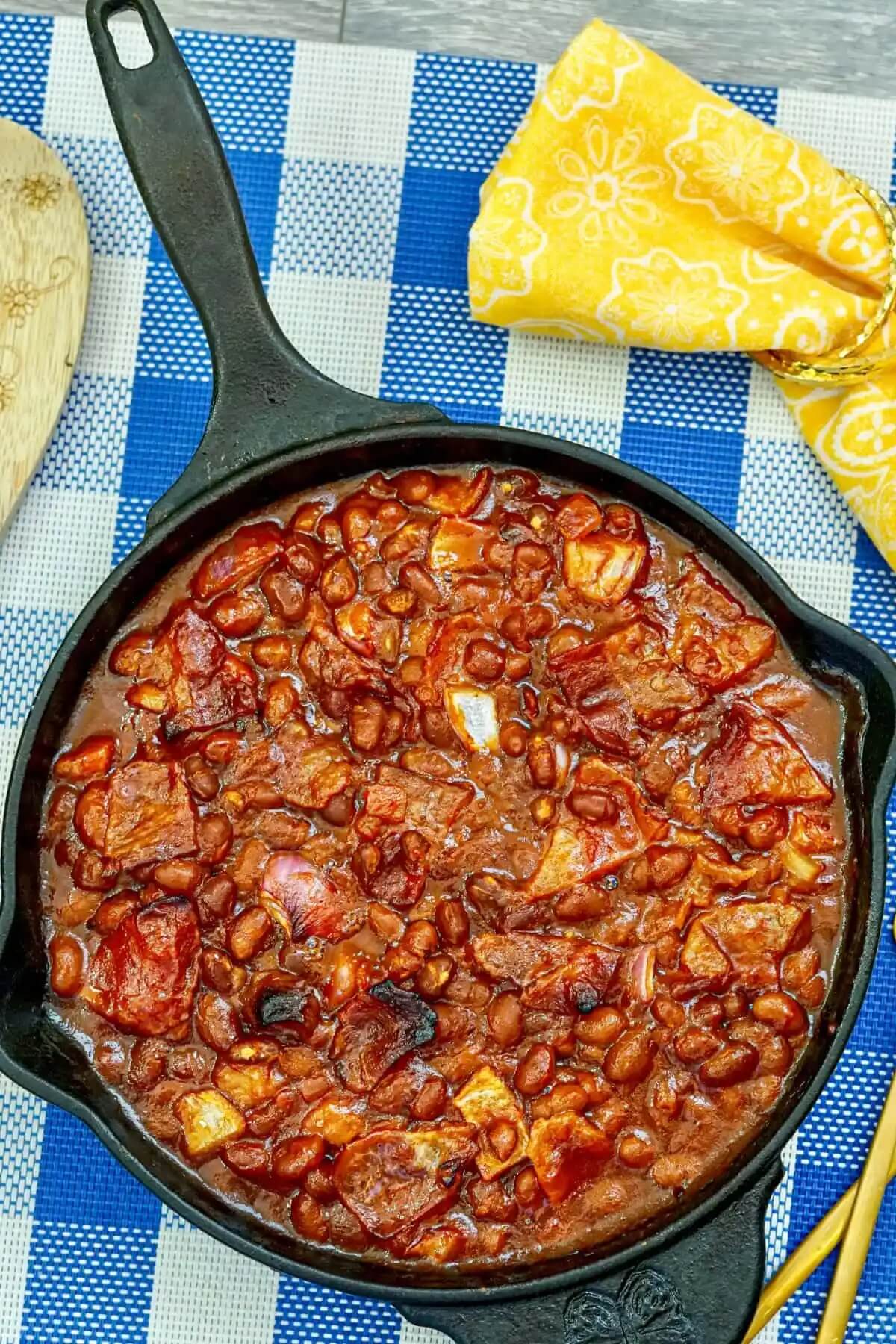 For a simple make-ahead side dish to go with your barbequed meats, baked beans are an easy option that will feed a crowd. This baked bean with bacon recipe is loaded with flavour.
16. Roasted Baby Eggplant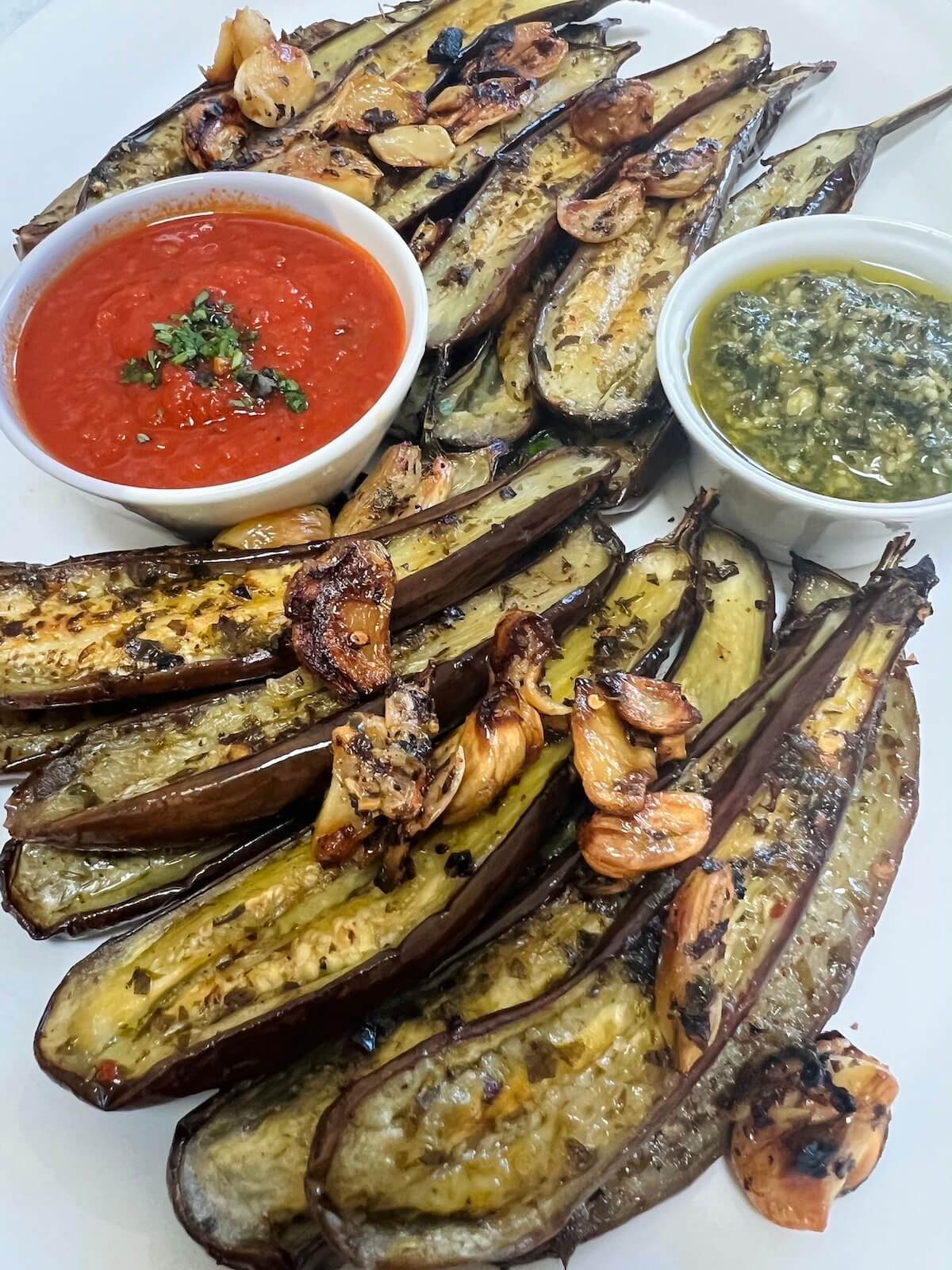 For a healthy side, you can pre-roast these roasted baby eggplants and serve cold or reheat ready for your main meal.
17. Cilantro Lime Brown Rice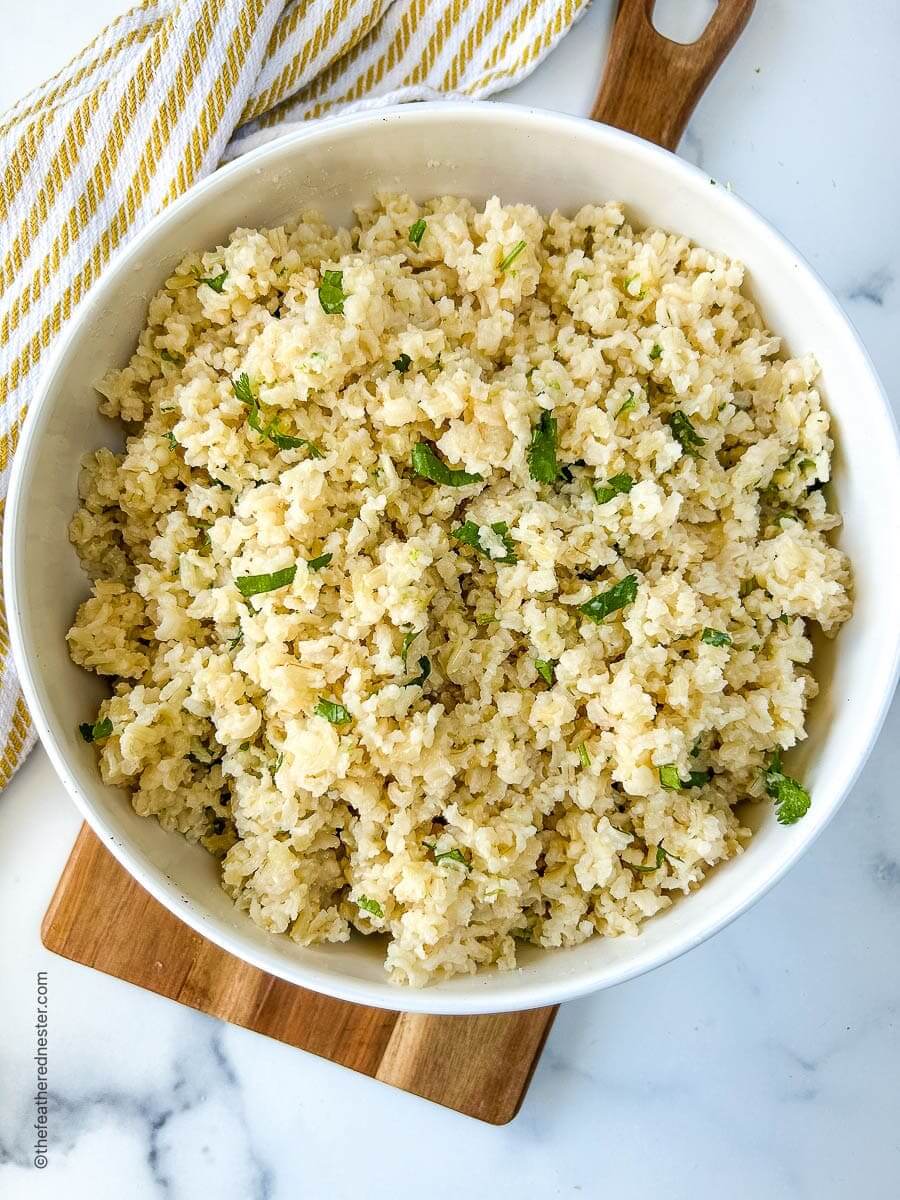 This cilantro lime brown rice is a healthier option compared to white rice and it has plenty of flavour, perfect for serving with juicy succulent meats or anything with marinade to soak up the extra sauce.
18. Spicy Baked Beans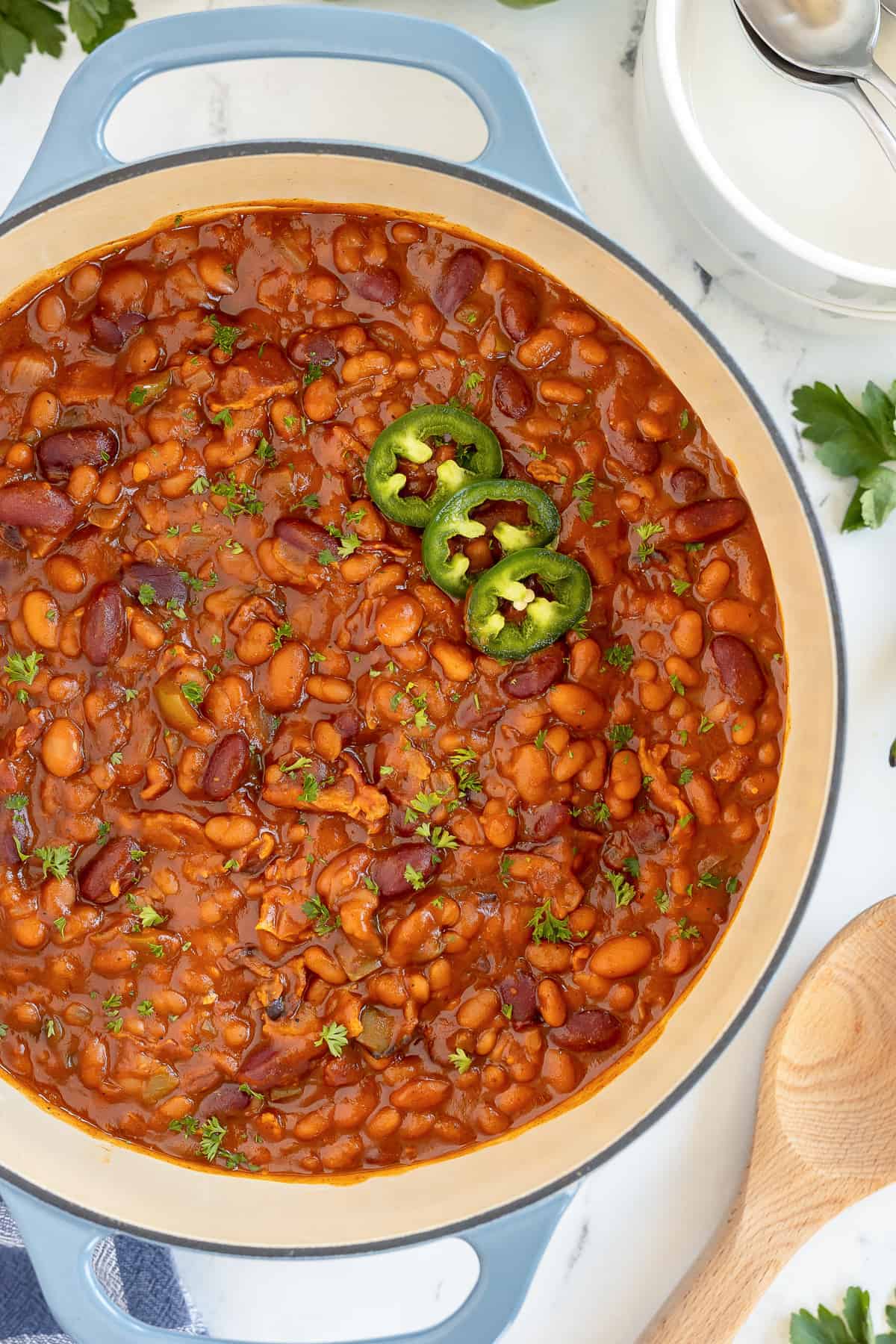 Love a bit of extra spice for your sides? This spicy baked beans recipe packs a punch, although you can adapt the heat to suit your tastes, of course!
Instant Pot Side Dishes
If you've got an instant pot or pressure cooker, you are in luck! These make-ahead side dishes are not only delicious but they can be prepared the day before and then heated up fast so you can spend more time enjoying your afternoon with family or friends.
19. Instant Pot German Potato Salad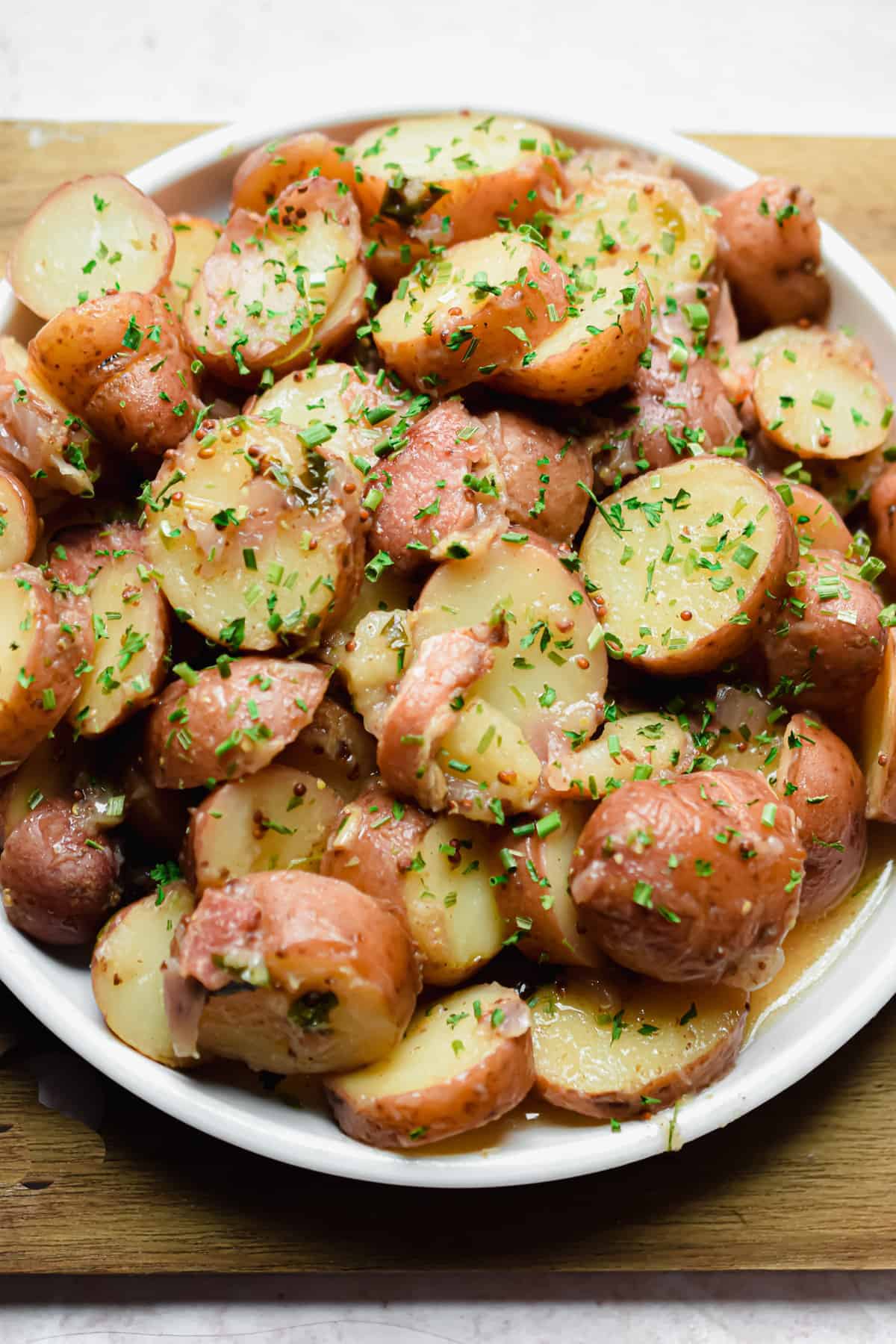 This instant pot German potato salad can be served warm, cold or at room temperature and it's made with vinegar, small potatoes bacon and onion, for a similar alternative to creamy potato salads.
20. Instant Pot Garlic Mashed Potatoes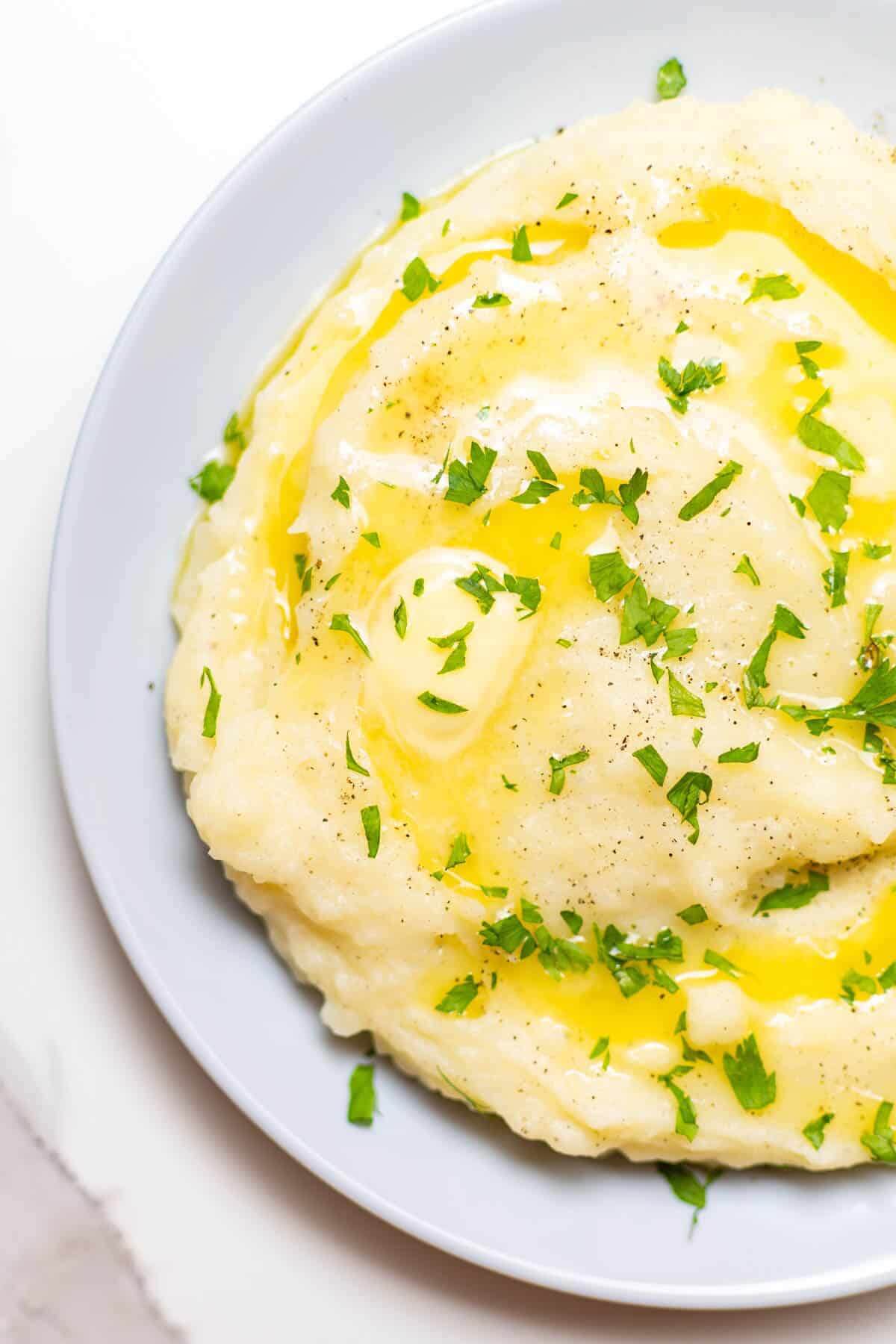 For the ultimate comfort food side, this instant pot garlic mashed potatoes can be made earlier and reheated ready to serve with your favourite meat dishes.
21. Instant Pot Potato Salad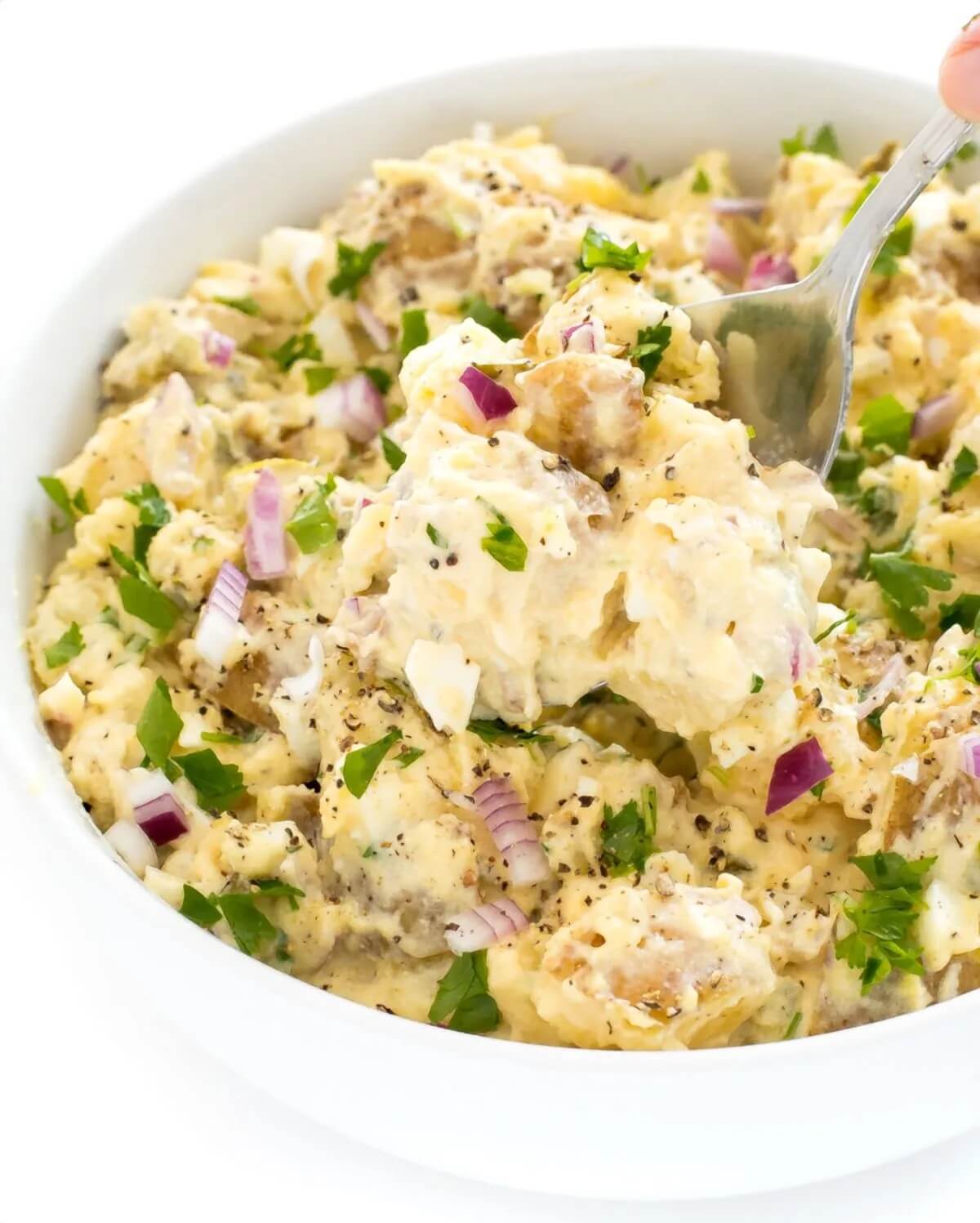 This instant pot potato salad can be stored in the refrigerator for 3 to 4 days so you can make it a couple of days ahead of time in case you have a busy lead-up. In fact, it's often better after a day or two of allowing the ingredients and flavours to sit.
Slow Cooker Side Dishes
Don't underestimate the time-saving benefits of your slow cooker. Throw your side dish ingredients in the crock pot in the morning and it will be ready to serve as a delicious side dish for dinner. These can sometimes be the easiest side dishes to make.
22. Slow Cooker Cowboy Beans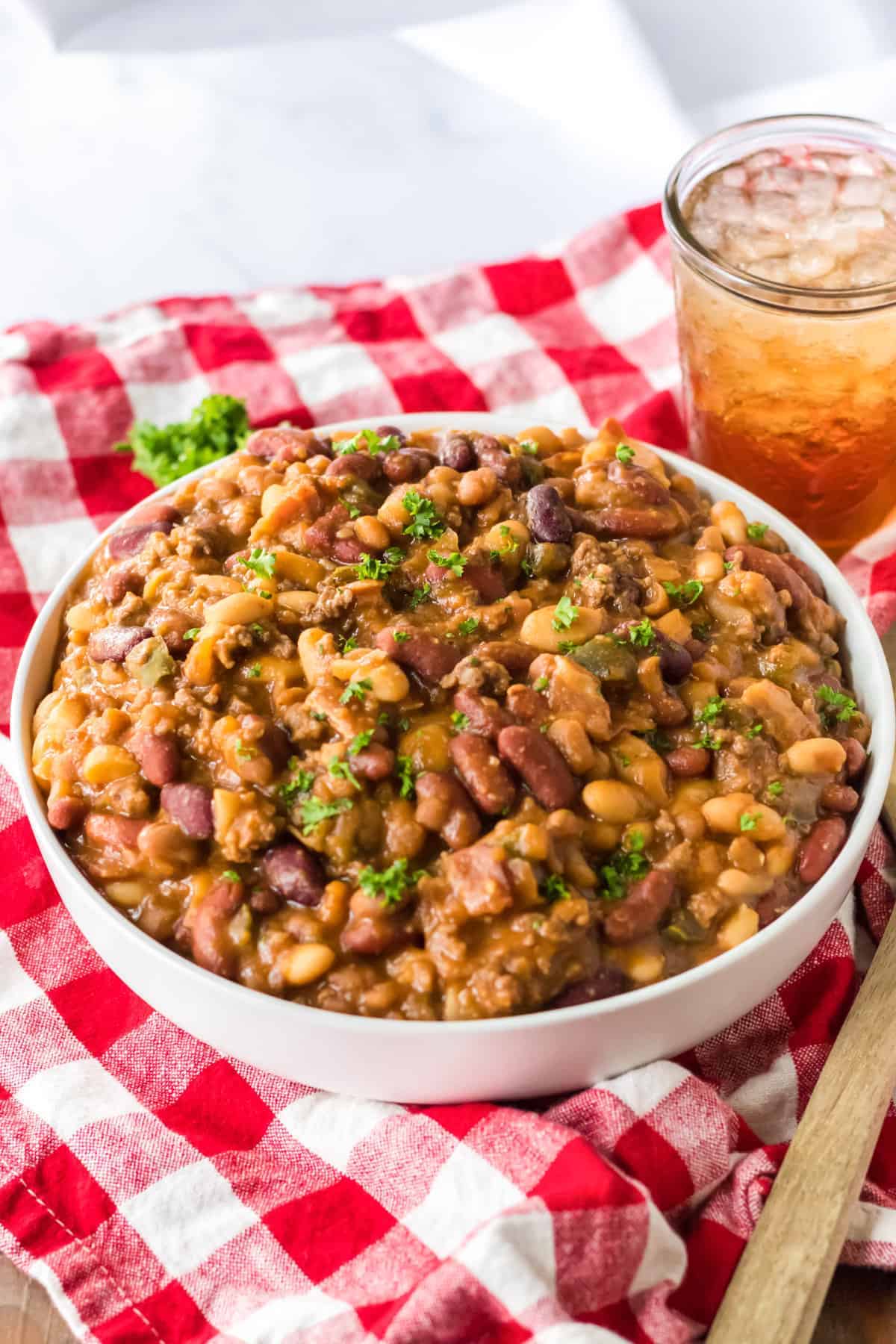 This slow cooker cowboy beans is loaded with ground beef and smokey bacon, with 3 different types of beans, slow cooked with a tangy sauce.
23. Crock Pot Mac And Cheese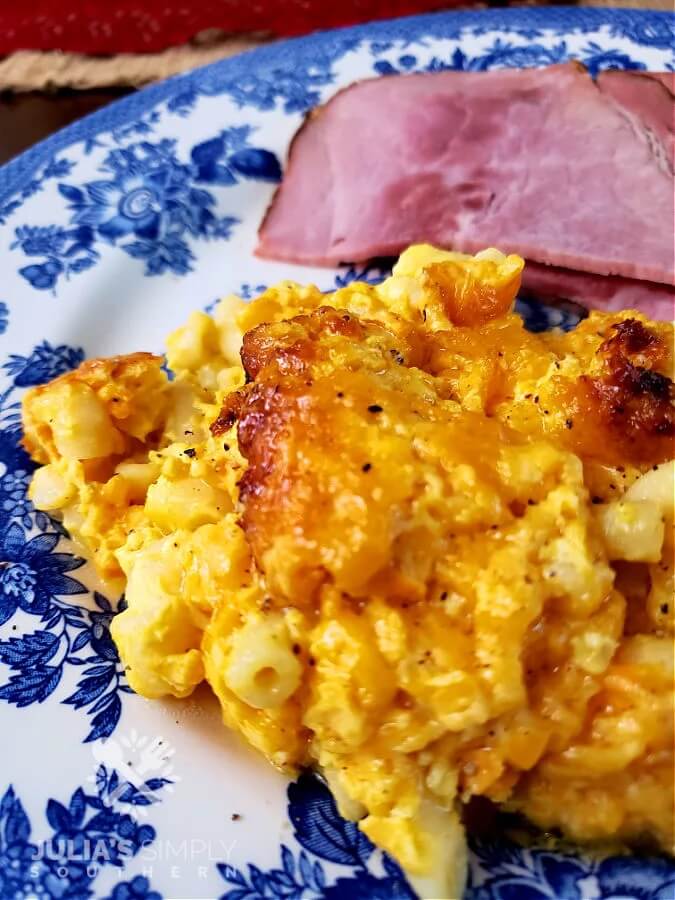 This crockpot mac and cheese is one you can prep in the morning, timing it to be ready just in time for your lunch or dinner meal.
Conclusion: Easy BBQ Sides To Make Ahead
Get a head start with these delicious recipes as the easiest BBQ sides that you can make earlier in the day or even the day before if you're short on time. These delicious side dishes for barbeques are perfect for taking with you to family gatherings and social events when you need to bring a dish!
Want more side dish inspiration? Check these out: